Founded in 1994, Mannatech, Incorporated is a multinational direct sales company that develops and markets high-quality, science-based dietary supplements and skin care products. Mannatech is headquartered in Coppell, Texas. The Company stock is traded in the United States on the NASDAQ exchange.
Over the past 20 years, Mannatech has expanded to over 25 countries globally. It has earned over 100 global patents for their technology. Mannatech boasts an uncompromising promise to quality using high quality natural ingredients, and is the pioneer of groundbreaking technology that's revolutionizing nutrition, immune health, weight loss, skincare and more. Called Glyconutrition, it provides targeted nourishment for your cells through specialized ingredients derived from plants. Our supplements come from real food to help give your body the right kind of nutrition for a healthy life.
CORPORATE GOVERNANCE
Alfredo (Al) Bala joined Mannatech in October 2007 as Senior Vice President, Global Sales. He was then named Executive Vice President, Sales in June 2011. In June 2014, he was named president to streamline and unify sales and marketing efforts to even better support Mannatech's independent sales Associates worldwide. In his current role as CEO, he continues to provide Associate support and focuses his efforts on the company's global expansion.
"
I am really excited about rewriting the language of the network marketing industry to embrace the pioneering concept of the Social-Mobile-Global brand of Network Marketing. At Mannatech, we have always been pioneers—through our products, people and culture. And now, as the Fourth Industrial Revolution begins to transform our economy to a world without jobs, we are offering Associates not only a path to pursue for a healthy lifestyle, but also an opportunity for a long-term income filled with a sense of purpose and significance. We are sharing a precious gift, the gift of wellness, with the world. This will make a profound difference. It will change the world. After 38 years in the industry of Wellness and Network marketing, my passion is to educate future generations on the wonderful and extraordinary opportunities that this represents.
"
Alfredo (Al) Bala, CEO
Global Scientific Advisory Board
The Global Scientific Advisory Board (GSAB) supports Mannatech's commitment to providing science-backed nutritional supplements to its worldwide customer base. The international members of GSAB will provide their insight and expertise to help Mannatech continue to develop outstanding new products or refine existing products to ensure that ingredients and formulations are up to pre-determined standards and are in line with the latest, viable research. GSAB members may also be called upon to provide education and training to consumers on health and wellness topics.
GSAB is chaired by Doctor Steve Nugent, PsyD, PDD, MA,CNC
Mannatech is passionate about a partnership with the Mission 5 Million (M5M) Foundation, whose goal is to see 5 million children in need given proper nutrition with their real-food products.
According to the World Health Organization and UNICEF, roughly 100 million children in developing countries are underweight and over 150 million are malnourished.
Undernutrition can hinder brain development, reduce intellectual capacity and stunt growth. Malnutrition impacts the lives of 55 million children at any given moment.
For each Mannatech product purchase made, Mannatech makes a donation to the M5M Foundation. From 2009 through 2017, Mannatech's programs have generated over 122 million servings of nutritional support for malnourished children.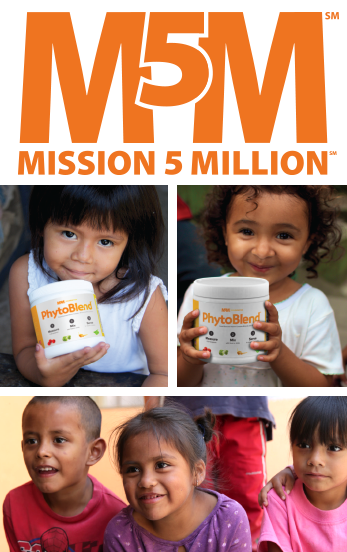 Zero Risk
Mannatech is so confident that their products will transform your life, that it offers an unsurpassable 90-day satisfaction guarantee. That's three whole months to test out Mannatech products that are revolutionizing nutrition, immune health, fat loss, skincare and more. The full terms and conditions may be found here.